One of our students at Bot Academy, Zac Hansen, generated an extra $4,000+ in revenue for Michael Hyatt on their very first chatbot campaign.
If you don't know who he is, Michael is a badass.
Former chairman and CEO of Thomas Nelson Publishers, now part of HarperCollins
New York Times, Wall Street Journal, and USA Today bestselling author of several books, including Living Forward and Platform: Get Noticed in a Noisy World.
Michael's blog is ranked by Google in the top one-half percent of all blogs, with 500,000 unique visitors a month.
Before working with Michael, Zac was the marketing lead at a small startup in Vancouver. Now he runs Facebook ads and builds Messenger Chatbots full-time thanks to Bot Academy. Click below to learn more about the program!
What did the chatbot do for Michael's business?
Zac set up an onboarding flow that did three main things:
Collect email addresses
Register them for Michael's live webinar
Send them a confirmation email immediately after
The goal was to make it super easy for new people to register for their live webinar.
This included creating an option that auto-filled their email into Messenger which increased email signups. It gave them five options for different dates and times they can register. On top of all of this, Zac set up the chatbot software to coordinate with Michael's email software to automate the confirmation email.
While we can't share publicly the exact number of new leads that came in… (it was a healthy number that can turn into paying customers later on), here's what Michael said about Zac's impact on his business.
Before working with Zac [Hansen], we were clueless (and a bit skeptical) about all that Messenger could do. We were afraid it would be too much of an uphill battle for us, but we also couldn't ignore the possibilities with the platform. Zac sensed where we were at, and guided us to greater CLARITY, RESULTS, and most of all, REVENUE. In fact, we made an extra $4k+ from Zac's efforts ALONE. If you want to see tangible results from Messenger, partner with Zac as soon as possible.

—Michael Hyatt & Company
Now I'm done hyping up Michael and Zac's work. Let's walk you through the flow step-by-step so you can use similar strategies to generate new leads for your product or service.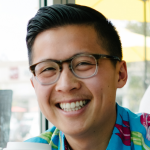 Tam's Take
If you want more practical use cases like what Michael did, click the button below and I'll send you one of Bot Academy's top blog posts describing the most popular chatbot use cases with real examples.
Finished Product
This is what the flow will look like from a bird's eye view. Now let's see step by step what it looks like.
1) Collecting Email Addresses
After you opt-in to Michael Hyatt's chatbot, he asks you when you'd to attend the webinar. You can pick our preferred option via the quick reply options.
Tam's note: This means that this campaign is only relevant until March 27. If you were to run your own campaign or for your clients, make sure to turn off the places where people can opt-in, or else they will be confused. If you are getting people subscribed to your chatbot via a website pop-up, for example, set a reminder to turn it off after the live event is over.
2) Registering for LIVE Webinar
What I love most about chatbots is how specific you can get. You can sign up for what time you prefer here but the magical part is that everything is being tracked on the back-end. This will be extremely useful towards the end of the campaign which you'll see why soon… 🙂
After confirming my time and date, Michael promises me send a confirmation email, which is all automated on the back-end.
3) Confirmation Email
This is the confirmation email that Michael sends immediately after you opt-in via Messenger.
Next, he gives you a workbook that will compliment his live webinar, which is amazing! When people join the webinar, they can use their phones to conveniently open the workbook up.
Remember when I mentioned how cool it was to collect data on your users? Here's where you can use it.
4) Bonus: Chatbot Webinar Reminders
One of the biggest problems with LIVE workshops is a low attendance rate.
Live workshops make up the majority of our sales at Bot Academy. The problem we had was if 600 people who signed up for our webinar, only ~60 people show up (10%). If we convert 2% of viewers, then we only made 1 sale.
I asked myself: Why aren't people showing up?
I thought about why I don't show up to things: (1) It's not on my calendar (2) Life gets busy and I just forget.
This is the perfect time to send a message exactly 3 minutes before the live webinar begins.
The first time we implemented webinar reminders, 22% people showed up instead of the usual 10%. That's over DOUBLE of the number of people, which doubled our sales.
Reminder sent via email
Reminder sent via chat
This is what we did.
After someone registers via our landing page, they get redirected to this confirmation page. We incentivize people to click the button by telling them how we use it for our business (so meta, I know).
Once I click it, I am now tagged on the backend that I am registered for this webinar.
Next, we prompt our audience to add this workshop to their calendar.  Now that they opted in, we can send them a timely reminder before the webinar actually starts.
Here are the results for this specific broadcast. We got 96.7% open rate and a 32% click rate through Messenger. This is in addition to our email notification that we send out a few minutes before the webinar starts which average around ~30% open rate.
This broadcast is only sent to the folks that opted for the thank you page for this specific webinar, so we don't confuse or overlap audiences.
With Michael Hyatt, he can go more specific with the tagging structure about the exact date and time. Our flow only has one date and time which makes things simpler.
It's up to you to decide what is best for your business or your client's business.
But the bottom line is clear: this one difference has more than doubled our attendance rate, which ultimately doubled our sales.
We hope Michael Hyatt's example serves as inspiration for what you decide to build your business and/or for your clients.